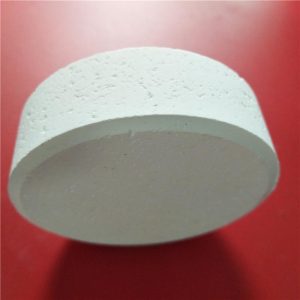 Trichloroisocyanuric acid /TCCA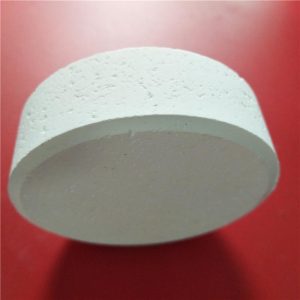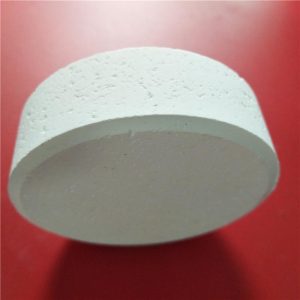 CAS No.:87-90-1
Other Names:
Trichloroisocyanuric acid
MF:C3Cl3N3O3
EINECS No.:201-782-8
Place of Origin:Henan, China (Mainland)
Grade Standard:bleaching agent; disinfectant.
Purity:90%
Appearance:,white granule powder tablet,
HS Code:2933692200
Leave a Message
Trichloroisocyanuric acid is an organic compound with the formula (C3Cl3N3O3). It is used as an industrial disinfectant, bleaching agent and a reagent in organic synthesis. This white crystalline powder, which has a strong "chlorine odour," is sometimes sold in tablet or granule form for domestic and industrial use.
| | |
| --- | --- |
| ITEM | STANDARDS |
| Appearence | White tablet or granule |
| Available Chlorine | 90.0% min. |
| Moisture | ≤0.5% |
| PH value | 2.7-3.3 |
| Granular size | 8~30 or 20~60 mesh |
| Tablet size | 5g~200g |
Application:
Water treatment: Swimming-pool, drinking water, industrial circulating-cooling water.
Sterilization: Disinfecting in hospital, family, public place, pharmaceuticals and breeding industry.
Bleach: Organic synthetic industry, Textile industry.
Others: Aquaculture industry, to be used in doing shrink-proofing agents in wool finishing and paper mothproofing agent etc.
Attention
TCCA is a strong oxidant. Should be stored in dry, cool and ventilated place; avoid insolation, fire and heat; do keep it from mixing with organic substances, acids ,oil or reducing agents.when the package is broken and scatters, fast collecting and airproofing the product in time, if the skin be touched with it ,fast washing with diluted ammonia solution.
Inquiry