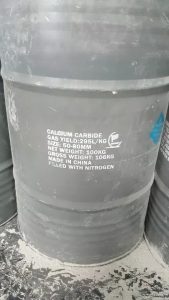 CALCIUM CARBIDE CaC2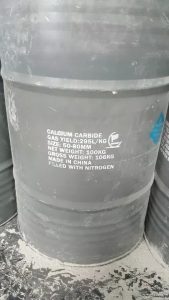 1 – CAS No.:75-20-7
2 – EINECS No.:200-848-3
3 – Synonym Names: calcium acetylide ; calcium ethynediide
4 – Chemical Formula : CaC2
5 – Place of Origin:Henan, China (Mainland)
6 – Gas Yield : 295 – 305L/KG Min
7 – Appearance:Brown,grey,black,purple solid stone
8 – Application: Used in the generation of acetylene gas for welding, and as a reagent., producing acetylene gas
9 – HS Code:28491000
specifications
This product is lumpy substance, its surface is a little deep gray, has slight nasty smell. It can produce acetylene gas when met water, it can burn when meets fire. The acetylene gas mix with air will form explosive gas (explosive range of acetylene gas in the air is 2.3% – 81%).
Technical specifications and features
1. Name
Calcium Carbide
2. Molecular formula
CaC2
3. HS code
28491000
4. Gas yield
295L/KG – 305L/KG min
5. PH3(V/V)
≤0.08%
6. H2S(V/V)
≤0.1%
7. SIZE
4-7/7-15/7-25/15-25/25-50/50-80/80-120 mm
8. Packing
50 / 100 kg black steel drum
9.Loading
22.5 tons into 20'fcl full container without pallet
10 – Cautions during transportion:The packing must be kept in good condition and the goods should be stored in a dry, cool and ventilated place.It should be separate from the cargo can burn and acid.It should avoid meeting water and moisture.It should give off the acetylene in iron drum before storing in warehouse. Rolling drums,heavy putting down and colliding are not allowed to avoid the spark leads to explosion .
Inquiry